Hair Styles Collections I 1 | 2 | 3 | 4 | 5 | 6 | 7 | 8 | 9 | 10 | 11 | 12
We have some fantastic hair styles in the Hair Styles Collection. See great ideas for long hair, medium hair, short hair and updos.
Most of the long hair styles in our Hair Styles Collection I feature bangs. FYI- Bangs are IN STYLE now and are a great way to get a completely different look with very little work.
Long hair style , above and below, features long, side-swept bangs and angles starting at eye level and going all the way down to the ends.
The hair style below is kept straight and smooth. The hair style below also has a little bit of height at the crown area and some of the layering. To create this height, simply back-comb sections of hair underneath and then smooth over the hair on top with your fingers.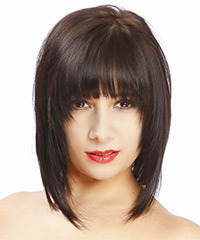 This beautiful bob is cut to frame the shoulders showing off the wispy layers cut through the front to compliment the face. The bangs are jagged cut and blend into the side layers for a sleek and stunning finish. Regular trims will keep this style in shape and prevent split ends.
If you do not have long hair and absolutely love these hair styles, then you might want to look into hair extensions. Hair Extensions involve attaching human or synthetic hair to your natural hair for a free-flowing natural look. Visit the Hair Extensions Resource Center for complete details on this fabulous invention.
Create all over waves using a medium barrel curling iron. Since the waves are very loose, you do not need to leave the iron on your hair for very long.
Long layers are essential for this type of hair style to lay correct. Another great tip is to blow dry the hair with a large round brush, directing all layers down and under.
You can always add soft waves and curls later with a large or medium barrel curling iron or hot rollers.
SEE NEXT HAIR STYLES COLLECTION