Top Homecoming Hairstyles
See NEXT Homecoming Hair Styles
There are 3 very popular hair styles for Homecoming this year, the easy chignon updo, the partial updo and the long and curly. If you don't have time to make it to the beauty salon before your Homecoming dance, you can easily create any of these 3 simple styles on your own at home. For best results, you should do a few practice runs so that you are fully prepared and know exactly how you will be doing your hair. For more help with creating your homecoming hairstyle, visit weddinghair.com for hairstyle kits and directions. Kits contain instructions for doing your own hairstyle.
Medium Bob Hair Style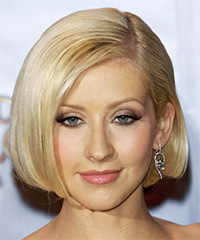 Slick and smooth is what makes this hairstyle stand out. The length is

cut to the jaw-line with tapering layers for shape. This brilliant 'do is easy to maintain with regular trims and is

best suited for those withe fine to medium hair types.
We will start with the long and curly style. This style has become very popular over the last year as many women are getting long curly hair extensions. If you are thinking about getting hair extensions for your Homecoming, be sure to get them a few weeks in advance so you don't have any surprises on the big day. Long, curly hair style examples, below are great examples of a homecoming hairstyle. These styles will go with just about any type of dress and have that formal look about them.
If you are creating this style on your own, you will need to allow some time to create the curls all over, especially if you are using a curling iron.
Apply a curl enhancer cream or gel to damp hair before blow drying. Use a diffuser attachment on the hair dryer to help eliminate any frizz. Next add all over curls using a medium barrell curling iron. Be sure to let the hair cool completely before positioning the curls. Finish off the style by spraying with a finishing spray to keep all the curls in place and to add extra shine to the hair.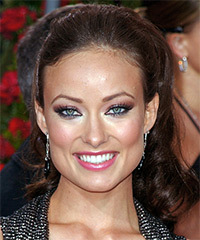 Partial Updo Hair Style
The second most popular hair style is the partial updo. Notice how Olivia pulls back some of the hair in the crown area into a high ponytail.
This fantastic hairstyle is perfect for any special occasion and will suit any hair type. With the help of the right products, this style will hold well all day.
Spice up your style for Homecoming by adding a jeweled barrette or pony tail holder. She has combined two great looks in one--the all over curls with the partial updo hair style.
See more examples of the updo hair style below.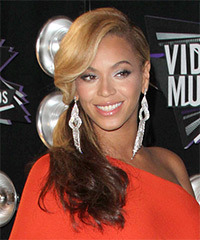 Both of these partial updo hairstyles feature some height in the crown area. To create height, gently back-comb small sections of hair and smooth over the top with your fingers. Gently pull the hair back. Hair forms are also an option to create additional height. Beyonce has left out some wispy bangs and side fringe to soften the partial updo hairstyle.
Simple Short Hair Style
Paris Hilton stunned the crowd with this classic

jaw length bob style. Layers were cut through her top

section to create height and body at the crown, while jagged

bangs were cut to frame her face. This style will be easy to

maintain with regular trims and is perfect for those with

round face shapes.
.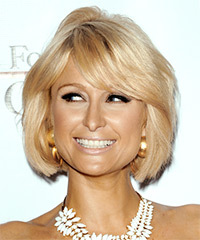 See 12 Best Hair Styles This Year for some more great ideas for your Homecoming Hair Style. housands of hair styles examples. Your search for a great hair style is over
See NEXT Homecoming Hair Styles Gallery