Hairstyles Makeovers
Getting a makeover can be a life-changing event for some women. There are hairstyles they would never have considered, different hair colors, different makeup - the options are endless. Below are 10 different ideas for you to get a hairstyles makeover.
1. Hair Color Change. If you do not want to change your haircut, but still want a major change, then changing your hair color may be your best option. Of course you must consider that changing your hair color can be very damaging. It is always recommended that you go to the salon to do any major hair color changes, and then follow up at home every month with touch-up color. Check out some of these celebrities that have done major hair color changes over the years. What will be your next hair color?
Nicole Richie went from a blonde hair color to a medium brown. It really is amazing the difference the color change can make in your overall appearance. It looks like Nicole added some colored contacts as well. She looks amazing.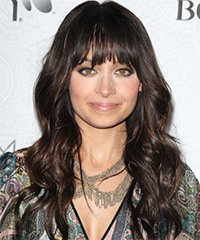 2. Get Hair Bangs. Besides changing your hair color, adding bangs is a great way to spice up your style and look very modern. Bangs are hot this year and the great thing is there are so many different types of bangs that you can add. If you just want to try them out, go with just a long side swept fringe bang. If you don't like the way they look, you can just style them with the rest of your hair. Check out the photos below to see how adding bangs can completely change your look.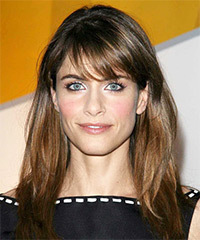 3. Go for a New Haircut. Sometimes you are just ready for a new cut. Check out some of these popular cuts this year.
4. Get Hair Extensions. Hair extensions are the quick way to get beautiful long hair. Instead of growing out your hair for years, why not get extensions. Many celebrities have gotten extensions over the years. Get details on getting Hair Extensions
5. Buy Hair Accessories. Sometimes all you need is a little help to create a different look. Adding hair barrettes, headbands, clip-in hairpieces can be a quick way to change things around.
6. Apply Hair Glaze. Sometimes all your hair needs is a boost. Try out some of these hair glaze products that help to brighten your hair color and add shine. There are several different brands available at your local drugstore.
7. Deep Condition Your Hair. This seems like a silly makeover idea -but it really works if your hair is overly dry or damaged. Apply a deep conditioner to your hair once a week for a whole month to see maximum results.
8. Get Highlights or Lowlights. The splash of color here and there really does create a new look. Highlights tend to brighten up the face and can be added in various places around the face. Lowlights are great for adding contrast, thus creating a more dimensional hair color. There are at-home highlight kits if you are feeling brave. If not, schedule and appointment with your hair stylist. Sometimes getting hair highlights can do more for your overall look than a hair color change.
9. Schedule a Hairstyles Makeover Appointment. There are hair stylists out there that specialize in makeovers. They may have an entire portfolio of before and after photos to show you. Be sure to ask for references and see example makeovers before you take the plunge.
10. Try out Hair Straightening . You can always straighten your hair with a flat iron, but what if you didn't have to? New services in salons today include Japanese Hair Straightening and the Brazilian Blow Out. Both services are an attempt to chemically straighten out your hair and make it appear shiny and silky. These treatments can be damaging to your natural hair. Be sure to schedule a consultation with an experienced hair stylist before getting either one of these services.