Prom Hair
Hair Updos | Long Hair | Short Hair | Curly Hair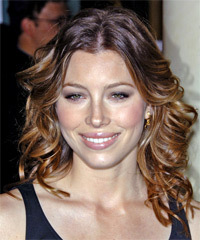 To get the best overall look, it is important to plan your hair for prom. There are many different options for styles, and you should experiment with several before deciding on a particular one. Some styles, such as the long or down style will look good with just about any type of dress. However, there are some dresses that would look absolutely stunning when paired with an updo hair style.
Jessica looks great at the Los Angeles premiere of her movie "London". The length has been left below shoulder level and the top and sides have been jagged cut short to enhance curl. This style will work best on medium to thick hair types. It is a great option for the prom.
Get started planning your look by browsing through magazines and online websites, such as HRHairstyles.com to find examples of hairstyles that you like. Make a note of what it is you like about the styles and what you don't like. You could even bring photos of hairstyles that you don't like so that your stylist has a very good idea of what you do want.
It is always a good idea to schedule a trial run with your hair stylist. The trial run is done several weeks before your event and the appointment will help you to know exactly what you will look like on prom night. Surprises are never good at big events like weddings and proms, so the more planning and preparation you do before hand will help you out in the long run.
Buy at AllPosters.com
Sandra Bullock is wearing a long hair style that would be perfect for the prom. Soft waves were added throughout using a medium barrell curling iron. For added dimension, you can add some highlights, like Sandra has done. The highlights around the face help to brighten up everything.
Look at Prom Hair Updos