Hair Styles Collections I 1 | 2 | 3 | 4 | 5 | 6 | 7 | 8 | 9 | 10 | 11 | 12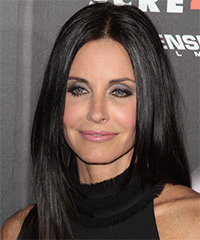 The straight smooth hair style look is still fairly popular. Style below features very long layers and gentle waves. To get the extra healthy look for long hair, try deep conditioning your hair at least once a week. Apply your favorite deep conditioner after shampooing and leave on the hair for 20-30 minutes. Long hair really needs to be conditioned frequently.
A great tip to keep that extra silky look for days is to apply hair spray to your hair BEFORE you flat iron it. This will help to seal the cuticle and make your hair extra smooth for days.
Hair style shown below features a lot of layering and texture. This type of hair style works best with very thick hair. Also needed for this type of hair style if good hair care products. To get all the layers to lay straight and smooth you will need some serious styling cream, a flat iron and perhaps even a shot of shine serum. Strategically placed highlights throughout the hair make it a winning look.
Regular hair cuts will be necessary with this type of layered cut, since the layers grow out and become very uneven. Well placed highlights and or lowlights to this style make it stand out and shimmer.
The hair style, see left, features lots of layering and blunt ends.
Create this style by first applying a straightening cream all over the hair. Blow dry the hair using a large round brush.
Finish off the style by running a flat iron from roots to the ends.