Celebrity Long Hairstyles Gallery
Long Hair 1 | Long Hair 2 | Long Hair 3 | Long Hair 4 | Long Hair 5 | Long Hair 6 | Long Hair 7 | Long Hair 8 | Celebrity Long Hairstyles
Rachel Weisz Hairstyles
Rachel is wearing a long, wavy hairstyle that is a very classic look.Waves are added all over using a medium barrel curling iron or hot rollers. Get the shiny look, like Rachel's, by applying a small amount of shine serum to the hair after styling. With shine serum products, it is important that you only apply a small amount to the hair to avoid the greasy look.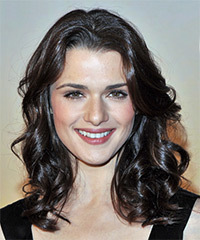 Rachel's dark chocolate locks looked fantastic sitting below her shoulders in sexy waves. Her medium to long layers through the sides and back helped create body and bounce which complimented her gorgeous face.
Rachel also had a short, pixie-like hairstyle not to long ago, see photo left.
This style features long layers in the crown area with short layers on the ends and side. The hair has been swept across the forehead from a deep side part for a very face-flattering look. With hair this short, it is very important to keep it in great shape with deep conditioners on a regular basis combined with regular conditioning. If the hair gets out of control, it will be blatantly obvious with it being so short.