Celebrity Long Hairstyles Gallery
Long Hair 1 | Long Hair 2 | Long Hair 3 | Long Hair 4 | Long Hair 5 | Long Hair 6 | Long Hair 7 | Long Hair 8 | Celebrity Long Hairstyles
Denise Richards Hairstyles
Denise is wearing a long wavy hairstyle that features multiple highlights mixed in with a center part and long side swept layers around the face.
Create this style by first applying a curl-enhancing cream or mousse to damp hair. Next blow dry the hair with a hair dryer that has a diffuser attachment. Use only your fingers to shape and position the hair. This approach will let the hair develop any natural curl that it has- resulting in less styling time to create waves.
If you haven't already done so, apply a heat protectant product to the hair. Protection will be essential during the next step of creating this hairstyle - using a curling iron or hot rollers. Using a medium barrel curling iron, wrap small sections of hair in the iron and leave in for about 20-30 seconds, or until the hair feels hot to the touch.
After curling all of the hair, allow it to cool completely before shaping and positioning the hair. Spray the hair with a strong hold hair spray to keep all the curls in place for the rest of the day. Also spritz the hair with just a small amount of shine serum to bring out that super shiny look.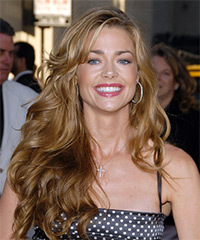 Denise pulled off a great look at the L.A premiere for "Ratatouille" with the help of this style. Spiraling waves through the ends of her long hair added plenty of life to her look and layers were sliced into the mid-lengths of her hair, closer to the top, so that texture was added through her top section and so that her top section wasn't pulled flat from the weight of her hair.