Celebrity Long Hairstyles Gallery
Long Hair 1 | Long Hair 2 | Long Hair 3 | Long Hair 4 | Long Hair 5 | Long Hair 6 | Long Hair 7 | Long Hair 8 | Celebrity Long Hairstyles
Nina Dobrev Hairstyles
Nina is wearing a very classy long layered haircut style featuring a deep side part and layers tapering from chin level down to the ends. This style is classic, timeless and flattering for just about anyone.
Long layers added throughout the style help to break up the thickness of the style and allow more movement of the hair. Layers are the best invention for long hairstyle such as Nina's.
Get these fun, flirty waves by wrapping small sections of hair around a medium to large barrel curling iron. Hole the iron in a vertical position for beautiful cascading curls.
Nina's super cute partial up do hairstyle, see photo left, features a portion of the hair in the crown area pulled back into a high ponytail. Height has been added to the hair in the crown area and the ends of the hair are left slightly wavy. What a great hair style!
Extra glossy finishes, like Nina's dark brunnete hair color, can be achieved by adding a shine serum product to the hair after styling. For an extra dimensional look, try adding in some highlights.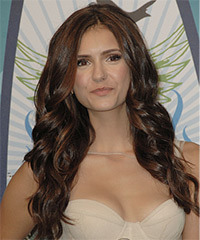 These beautiful tresses fall over the shoulders to show off the gorgeous length which has long layers cut into it to encourage the bounce of the waves to add more body and fullness. This is best suited for those with long faces shapes looking for a hairstyle to stun the crowds.