Celebrity Long Hairstyles Gallery
Long Hair 1 | Long Hair 2 | Long Hair 3 | Long Hair 4 | Long Hair 5 | Long Hair 6 | Long Hair 7 | Long Hair 8 | Celebrity Long Hairstyles
Jessica Lowndes Hairstyles |Long, wavy hair styles
Long, shiny brunnette hair with endless waves make Jessica Lowndes look very glam. Extra shiny locks are yours to have with just a bit of work...and hair products. Weekly deep conditioners are great for adding the shine back to a drab style. Also there are hair glazing/glossing kits available at the stores that add instant shine to your hair.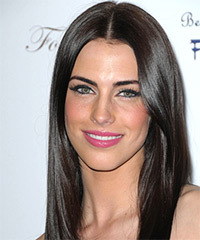 This long sleek hairstyle needs little product to style as its natural smoothness allows it to drop beautifully over the shoulders to show off the jagged cut ends. The shine comes through, whether the hair is curled all over or straight and sleek all over.
Spritz on a bit of shine serum after styling the hair to add some extra shine, much like Jessica's style.
Longer hair does require more maintenance and tender care to keep it in great shape. Also, frequent trims can help keep away any split ends that might be developing. If you are growing your hair out, you can still ask for very little off the ends- even a dusting. This really does help to keep the hair healthy and split-end free over time.