Celebrity Long Hairstyles Gallery
Long Hair 1 | Long Hair 2 | Long Hair 3 | Long Hair 4 | Long Hair 5 | Long Hair 6 | Long Hair 7 | Long Hair 8 | Celebrity Long Hairstyles
Camilla Belle Hairstyles
Camilla has soft, sexy long hair, see photo right, that exudes confidence and makes her look amazing. To get this long layered haircut style, apply a styling cream to damp hair and blow dry using a large round brush.
Once the hair is completely dry, run a flat iron over the hair from roots to the ends. The extra shiny look can also be achieved by applying a small amount of shine serum after you have finished styling.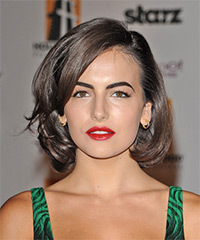 This was a stunning look for Camilla Belle at the 12th Annual Hollywood Film Festival Awards Gala. Her shoulder length bob was complemented by long layers cut through the sides and back for body and volume. The front layers started from her mid-face and were swept across her forehead for a sexy finish.
The addition of soft side swept bangs creates an instant softening affect to the long layered hairstyle. Height can be added to the crown area and in combination with the side swept bangs help to camouflage high foreheads in those with a heart shaped face.
No matter how Camilla wears her hair, it is always shiny and healthy-looking. Get healthy hair by regularly deep conditioning your hair and laying off the hot appliances for everyday use.