Is You Hair Dryer Damaging Your Hair?
Whenever you think of hair damage, split ends or frizzy hair, you might think that the major culprit is high heat styling tools like curling irons and flat irons. While the irons are a significant source of hair damage, another source of damage that is often overlooked is the hair dryer. Frequent use of a blow dryer on a high setting can cause significant damage to your hair over time. And if you don't have a hair dryer that has a higher wattage you may experience even more damage than usual as it will take a lot longer to dry your hair. Ultimately, anything that creates heat has a possibility of damaging the hair.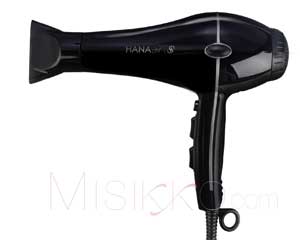 There is a new hair dryer on the market, the HANAair Professional Hair Dryer, that is a salon tested, salon recommended dryer with a tourmaline lined ceramic heater that will dry your hair up to 60% faster than most hair dryers. Plus the hair dryer uses tourmaline, ceramic heat and has an ion generator which actively adds negative ions to the air. This helps promote healthier hair. By using this dryer with new technology, you will be causing less damage to your hair over time.
"After trying out the HANAair Professional Hair Dryer I have to say that there is a BIG difference between a inexpensive discount store hair dryer and a higher priced professional product."
Beauty Editor HRHairstyles.com
Our beauty editor took this hair dryer for a spin to see how it measured up. Below are her comments.
"I have purchased maybe 3 to 4 hair dryers over the last decade. They have all been mid-priced models, from $20 to $40, that you find at the discount stores. Every few years the dryer will stop working--one even caught on fire, and then I have to go buy a new one. I never really thought about buying a hair dryer that was more expensive. After all, what could be the difference? All you are doing is removing water from your hair.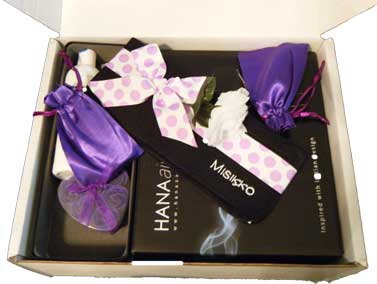 After trying out the HANAair Professional Hair Dryer I have to say that there is a BIG difference between a inexpensive discount store hair dryer and a higher priced professional product. After using this hair dryer on my hair it felt silky smooth and it did cut down the drying time drastically. I pulled up my hair and started drying the bottom part of my hair first. I used a large round brush to direct all of my hair down and under. I gradually would let more hair down and continue drying it until all of my hair was dry. After my hair was completely dry, I switched the dryer to the cool setting and sealed everything in. And if I was in a super rush, I could just spray a shine serum on my hair and go and skip the flat iron.
Generally I blow dry and flat iron my hair every other day, so over time I have noticed that I get split ends and my hair starts feeling really dry. With this hair dryer I can see my hair not becoming so damaged over time based on the way it feels and looks after a few uses. And I can't wait to see how it handles all my frizzies in the hot, humid summer months!"
The main attribute of the HANAair is that it is the most powerful dryer of its kind. It has a special turbine motor that keeps the weight down while outperforming even heavier driers and uses active ion technology that gives the hair that shine that you can usually only get in the salon.
If you are in the market for a new hair dryer, below are some key attributes of the HANAair Hair Dryer that you should look for in a hair dryer:
1. Variable Speeds - The multiple fan speeds are useful in salon settings because sometimes you want to use maximum heat and fan speed in order to blow the hair out in preparation for straightening, etc. In other cases you want to use lower heat or fan speeds without the concentrator nozzle to dry the hair without necessarily blowing out the definition in the hair
2. Wattage - 2300 watts, The higher the wattage, the faster your hair will dry, causing less damage.
3. Weight - The lighter in weight, the easier it will be to use. The HANAair is gyroscopically balanced for easy handling
4. Cool Setting- This cool air will seal in the moisture into the hair further preventing drying out and fly-aways.
The HANAair Professional Hair Dryer, designed for rigorous daily use in a salon environment, will outperform any regular hair dryer designed for consumer use. The dryer has a ceramic heater, 12' extra long cord and also comes with a 2-year warranty. The extra long motor life is designed to last for approximately 2000 hours, which equates to 11 years if you use it every day for 30 minutes. It is well worth the extra money as it will outlast and outperform any cheaper dryer.
For retail prices and ordering information, see http://www.Misikko.com
Disclosure: A free review hair dryer was provided by Misikko for this feature.