Brad Pitt Hairstyles
Brad Pitt is wearing a long, layered mens hair style that features highlights mixed in throughout. The style is very relaxed and casual. Create this style by applying a styling cream to damp hair. Blow dry the hair while directing all layers down an under.
There are many different types of haircut styles for men and different styling products for each cut that will help create the style with a lot of effort. Ask your hair stylist for the best products to use for your hair.
Brad created a buzz with this buzz hairstyle. It is a no frills, easy to take care of style for men. No hair products or styling required--just wash and go. His hair color and Jennifer Aniston's hair even matched in color for awhile. Currently he is wearing a longer version of this style.Brad has also worn much longer hair in the past. His hair, when longer, looks naturally highlighted with blonde streaks, much like is ex-wife Jennifer Aniston. This particular longer hairstyle, see photo right features a dark brown color.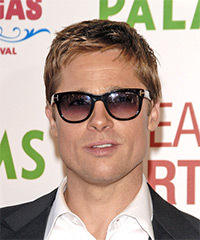 Brad may have hidden behind dark shades at the Cine Vegas Opening Night Screening of "Ocean's Thirteen", but he still pulled off a great hairstyle. His hair was cut into a very basic cut where his sides were tapered to a longer point at the top and his ends were chipped into to create a textured finish. This style is great for guys with thinning hair who are after a look with more volume.

Buy at AllPosters.com
Longer hairstyles for men are now achievable with the use of hair extensions. Hair extensions involve attaching human or synthetic hair to the natural hair by one of several different methods available.
The extension hair is kept in for up to 3 months before it needs to be removed and replaced closer to the scalp. Hair extensions are a very affordable option today for creating your perfect hairstyle.
SEE NEXT MENS HAIRSTYLES GALLERY