Updo Hairstyles Gallery
Updo Hair 1 | Updo Hair 2 | Updo Hair 3 | Celebrity Updo Hairstyles
Maria Menounos Partial Updo Hairstyles
The partial up do hairstyle is thumbs up for any formal occasion. The hair in the crown area has height before it is pulled back into a low ponytail. To achieve this height, take small sections of hair and gently back comb the hair, smoothing over the top with your fingers.
Applying a root volumizer to damp hair before drying can also help with creating height in the root area.
Add all over soft curls using a medium curling iron or hot rollers. The soft waves give the style a super soft romantic look. This style works for a bridal hairstyle, prom, homecoming or simply a night out on the town.
Matching necklace and earrings help to accessorize the fancy look.
Any type of dress will work with this partial up do hairstyle. Different optios include a silky straight style in addition to the all over waves, curly look.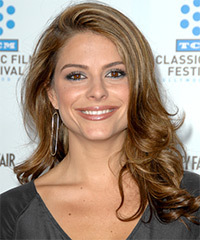 This beautiful hairstyle drapes over the shoulder showing of its wonderful layers cut through the mid-lengths to ends to add movement and and shape. This is easy to achieve with the perfect blow-wave and is great for any special occasion.
Maria is wearing a more casual version of the partial up do hairstyle above This style features less hair pulled back in the crown area and a lot more highlighting, as seen in the photo. Highlights around the face area help to brighten up the face.